When a class at Bullseye Resource Center New York lists its instructor as "Bullseye Staff", that means the class will be taught by one of our full-time staff.
Meet the New York Staff:
Michele Gotfredson earned her BFA from Boston University in 2004 with a focus in painting and art history. She spent a decade in Boston before returning to her roots in New Jersey where she focused on a career in painting and graphic design. In 2013, she joined Bullseye, opening and managing Resource Center New York. She has worked with glass since, soaking up the endless knowledge and embracing the unexpected.
James O'Neil is an Instructor and Studio Assistant at the Bullseye Resource Center New York. He earned his BFA from the Ohio State University with a focus in Glass and Art Education. James has worked in Glass and Ceramics studios in Columbus, Ohio and throughout the Tampa Bay area. He has shown work in multiple galleries and public spaces, drawing on influences from his rural Midwest upbringing to his current residence in NYC. His work is shaped by nature and the ways people explore and inhabit the world surrounding them.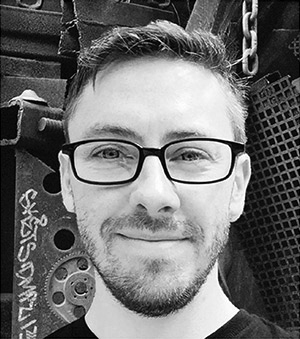 Kaley Finegan earned her BA in Studio Art and English from Hamilton College and began working in glass after completing an award-winning series of handbuilt ceramic sculptures. Kaley has worked and studied in studios in the U.S. and abroad pursuing her passion for glass art. She worked at the Pittsburgh Glass Center for five years, teaching and assisting visiting artists, and has been with Bullseye since 2013. Kaley continues to derive inspiration from her students for her own sculptural and functional work.
Natalia Reyes comes from a diverse background where teaching has been a constant throughout her career. Working with glass is her latest adventure. Her goal is to use clear instruction to facilitate freedom of expression in her students, that they may explore, discover and create in a safe, fun and nurturing environment. She joined the team at Bullseye Resource Center New York in 2015.